Solution For Admin Password Regedit Windows 7
Here are a few simple steps that can help fix the regedit administrator password issue in Windows 7. To find the password, run HKEY_LOCAL_MACHINESOFTWAREMicrosoftWindows NTCurrentVersionWinlogon and navigate to "DefaultPassword". If you and your family double click on it, a welcome window should appear to share the saved password. This is the process that works with Windows 8 and 7.
Successfully tested on: Windows Many Enterprise SP1, 8 Windows Enterprise, 8 Windows.1 Enterprise, Windows Ten Enterprise version 1507, 1909, Windows 10 Long-Term Servicing Branch (LTSB) version 1507 1607 and Windows 10 Long-Term Servicing . Channel Releases (LTSC) 2015 > 2019
So you've locked out Windows and need to reset all account passwords. There are a number of other third-party programs and editors that do the job just fine (like Hiren's BootCD PE and Gandalf's Windows 10PE), but it's easy to set up Windows computer passwords using any registry editor to launch and create a query. /p>
I'll do this with Windows Regedit. I have successfully verified this process on many versions of Windows, Windows 8, Windows 8.1 and also Windows 10.
1 – Boot From Windows Installation Media
How do I find my administrator password Windows 7 using CMD?
When the computer starts, hold down the F8 key until the Advanced Boot Options screen appears. Use the basic arrow keys to enable "Safe Mode with Command Prompt", not to mention the Enter key. You will see a hidden administrator account on the login screen.
First, find your Windows installation media. It could be a Windows USB DVD drive. If necessary, you can create installation media for free Windows 10 using the Microsoft Media Creation Tool.
Insert or click on the installation media and wake up the computer. Bring up all the start menu (usually F10 F12) or select "Create Media".-
2 Open Regedit
After extracting from the media, the Windows Setup Wizard will appear. Instead of continuing, press Shift + F10 to open a command prompt window

3 – Edit Entire Registry
Where is administrator password in registry?
Type regedit and press Enter. The Registry Editor window will appear. Now find DefaultPassword and double click on it. The window will close, revealing the saved security.
Click HKEY_LOCAL_MACHINE to highlight it, then choose File -> Load Hive.

Go to the C:WindowsSystem32config folder and open the file called SYSTEM

NOTE. Your boot drive may be printed with a drive letter other than C:
If prompted for a unique key name, also type temp and click OK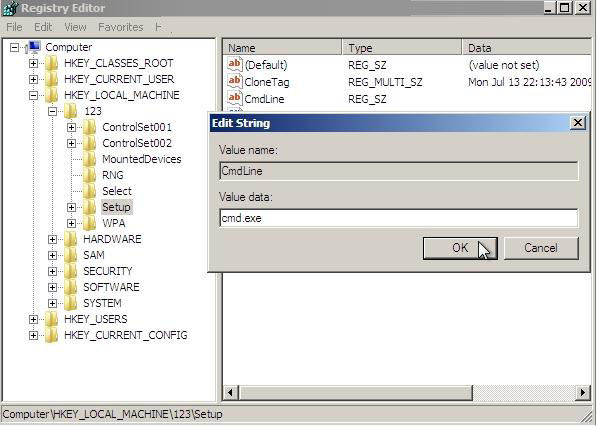 In the left pane, expand HKEY_LOCAL_MACHINE and immediately after that, expand Temp. Then click the "Settings" button to highlight it

In the right pane, double-click the SetupType value to display it. In the pop-up window, change the value data to path 2, then click OK.

On the door panel Right-click the CmdLine value once to reformat it. Then click OK
on the pop-up window to change the value of the data associated with cmd.exe.
In the left pane, click on a temporary file to highlight it, then select File -> Unload Hive

4 – Run Commands With Password
Reset Windows startup and the command prompt window will appear permanently.
Use net user to help with password reset commands to make it work with the right account. This can almost certainly be done by typing net rider and pressing Enter.
For example, I can reset the local administrator password on TestPW by typing: net user Administrator TestPW

NOTE. If your header contains spaces, you must enclose each username in quotation marks "" when entering the command.
5 – Clear
At the command prompt, type regedit and hold down the Enter key to open Registry Editor

Go to HKEY_LOCAL_MACHINESYSTEMSetup and make sure CmdLine Superior is empty and SetupType is set to 0